February 2023
     Proverbs 14:4 says, "Where there are no oxen, the manger is empty, but from the strength of an ox come abundant harvests." 
     We praise God that three sets of ox and plow have been purchased and delivered to the following communities: Vine Evangelical Church of Hatty (Pastor Jeanrubert Victor), Agape Christian Baptist Church (Pastor Lumanes Auguste), and Vine Baptist Church of the New Birth (Pastor Evanoir Valbrun). A fourth set of oxen and plows will be delivered to the Grace Evangelical Baptist Church (Pastor Michelet Michel).
     Your gifts also made possible the purchase of land for a church/school for the Vine Evangelical Church of Hatty. And your gifts have made possible the purchase of a motorcycle for Pastor Valbrun.  This purchase has been delayed because the price of the motorcycle chosen increased by 56%. An alternative within the budget has been found. Please enjoy the photos of the gifts of God's people at work in God's fields. 
     "From the strength of an ox come abundant harvests." We pray that it is so, and we know it will be so. AMEN!!
---
Haiti – a Place of Hope…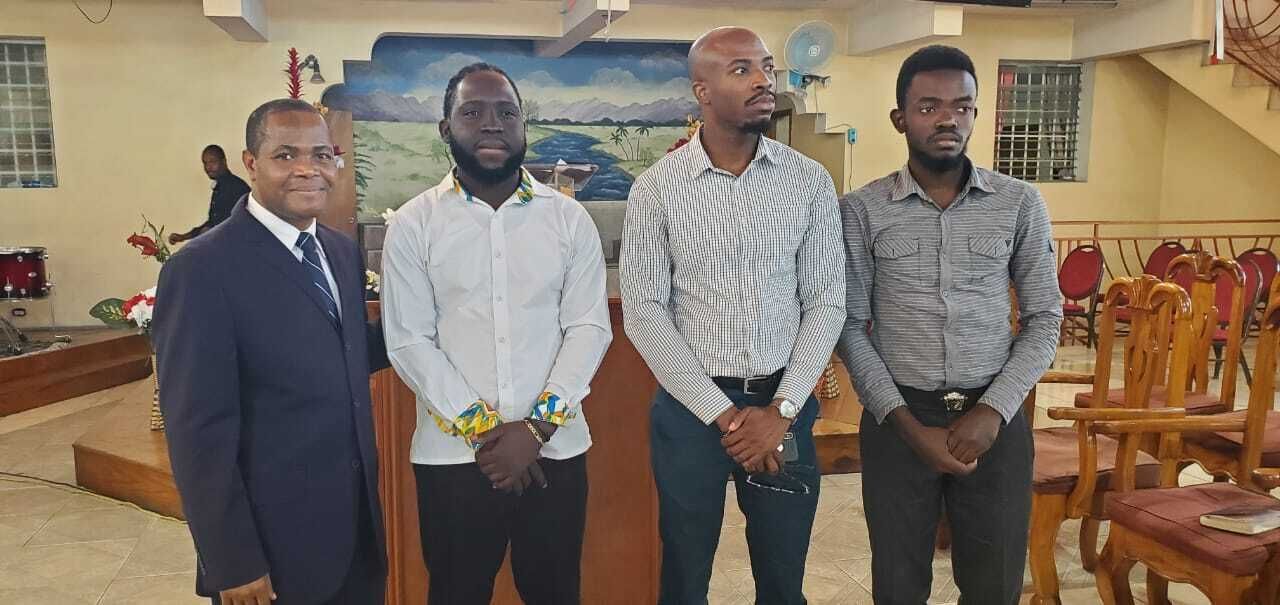 Sunday, January 22nd three young men came into a living relationship with Jesus, accepting Him as their Lord and Savior!! Praise God! Pastor Daniel preached on the theme "What is your relationship with Jesus?" Pastor emphasized that Jesus wants disciples, not fans. He used John 15: 15-18: 15 I no longer call you servants, because a servant does not know his master's business. Instead, I have called you friends, for everything that I learned from my Father I have made known to you. 16 You did not choose me, but I chose you and appointed you so that you might go and bear fruit—fruit that will last—and so that whatever you ask in my name the Father will give you. 17 This is my command: Love each other. 18 "If the world hates you, keep in mind that it hated me first.
     New to the Kingdom of God are L. to R.: Saint-Ange Pierre Yves, Staël Toussaint, and Alex Pierre. We bless them in God's name. Please be in prayer for these young men of God. 
     Haiti is the place God's Hope shines bright.
---
Meet our Staff - Part 1!
Evelyn Dick – Founder. Evelyn continues to serve with Vine Ministry, being involved in the Board of Directors and adding her 2 cents where and when needed. (Ok, sometimes it's 5 cents!) Her knowledge of Haitian culture and her contacts in Haiti continue to help Vine Ministry serve the vision God originally gave her and LeRoy. Her input is invaluable to the mission.  
Rev. Greg Golden – Executive Director. Greg recently retired after 42 years of pastoral ministry in the local church. He has a heart for Haiti and has been making mission trips to Haiti since 2001. He was Chairman of the Vine Board of Directors for 6 years before becoming Executive Director. Greg looks forward to working for the Kingdom through a ministry so blessed as The Vine Ministry. Greg and Bonnie and a dog named Trixi enjoy semi-retired life in Indiana, PA. The Executive Director serves half-time.
As always feel free to contact me to say "Hi," or share a question or concern. God Bless!!
Rev Greg Golden, Executive Director     
412-965-5505  |  greg@vineministry.org
P.O. Box 1435 Indiana, PA 15701-5435
Evelyn Dick, Founder
229-291-3480
Haitibabemema1@aol.com
Please note: We recently changed our bank account. If you donate through the website your funds are deposited into the new bank account and you do NOT have to change an address or update anything on your end. If your bank bill pay issues a check or you print checks on your computer, please update with our new address. THANKS!!!
Click one of the buttons below to sign up for our email newsletter
or donate to the mission of Vine Ministry!
---