The Lord has given, the Lord has taken away. May the Name of our loving Lord be praised for ever.
Pastor Daniel Telfort ended his letter to us with the above scripture from Job 1:21.
It is with great sadness that he informed us of the passing of his son Davidson Betsaleel Telfort who had passed from this life to life with our Savior, Jesus.
Following is part of the email Pastor Daniel wrote to us February 17:
Our hearts (Anne's and mine) are broken, as I am writing you this note. Things have turned out to be very hard on our family and our country. You have already been informed of the chaotic political situation of Haiti for almost two weeks. And things are the still the same. Meanwhile, our third male child, Davidson, has been sick having respiratory difficulties as a down-syndrome kid. Yesterday evening, as we saw his health was deteriorating, we took him to the nearest hospital. He did not survive. The Lord has decided to take him home. So, since last night Davidson Betsaleel is with the Lord after two years and nine months spent on this earth of sorrow and pain. 

So, in the midst of our griefs and trials we trust in the Lord, as we have to cope with this heart-breaking situation. We don't know yet when we will have the funeral service for our son. More information to follow. Please, pray for our family. 

Daniel & Anne,

Port-au-Prince Haiti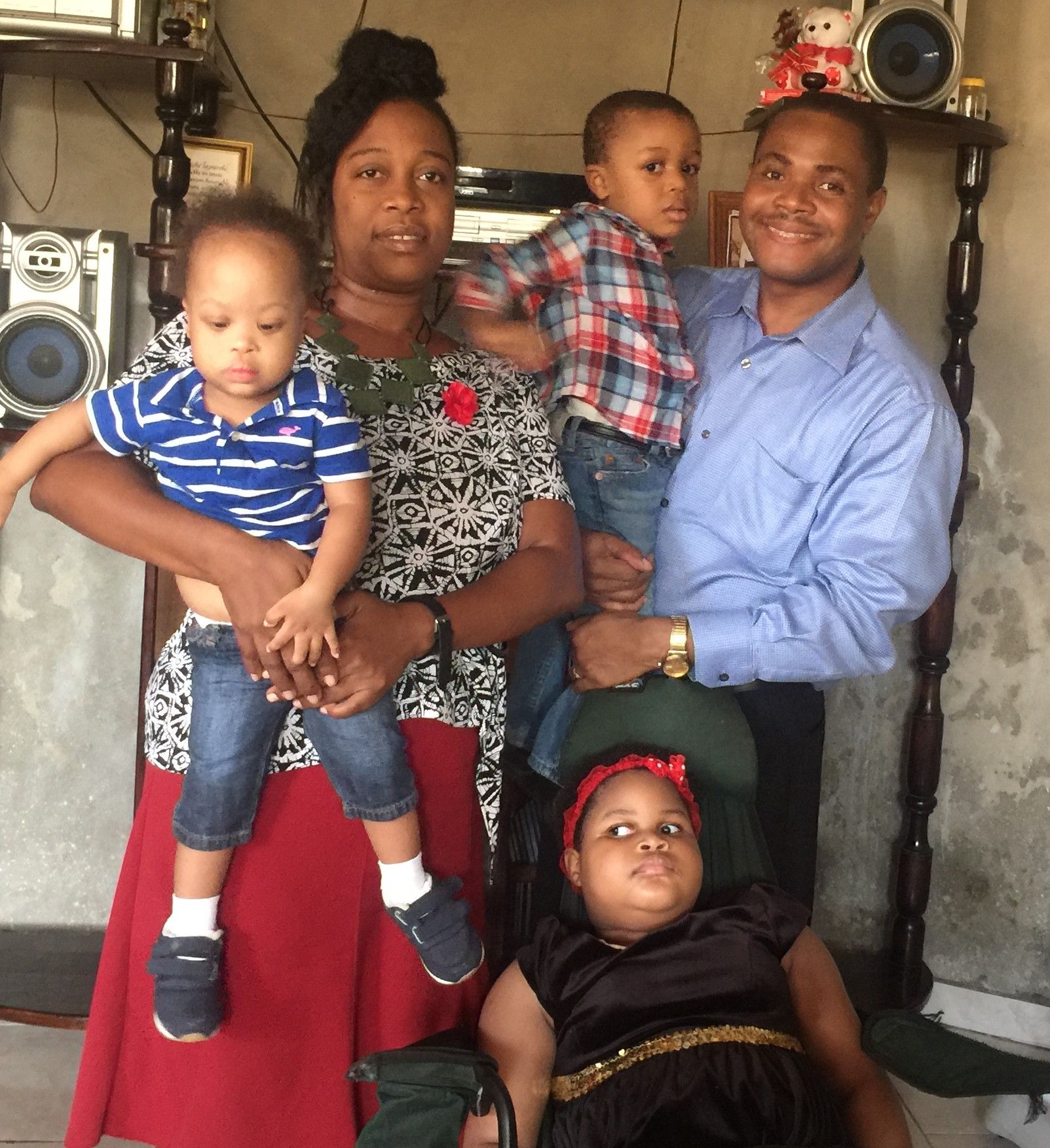 Anne is holding Davidson, Daniel is holding Junior, and Hadassa is seated in front.
Davidson's funeral was February 20. The disruption in the country settled down making it possible for the funeral to go on in peace. The church held a prayer service for the family instead of a wake. Pastor Daniel said it was very encouraging being surrounded by Christian brothers praying for them. 
Please pray for the Telfort family and all those close to them, keeping them safe and bringing comfort.
 
To designate a love gift for the Telforts you may do so either by mail or online.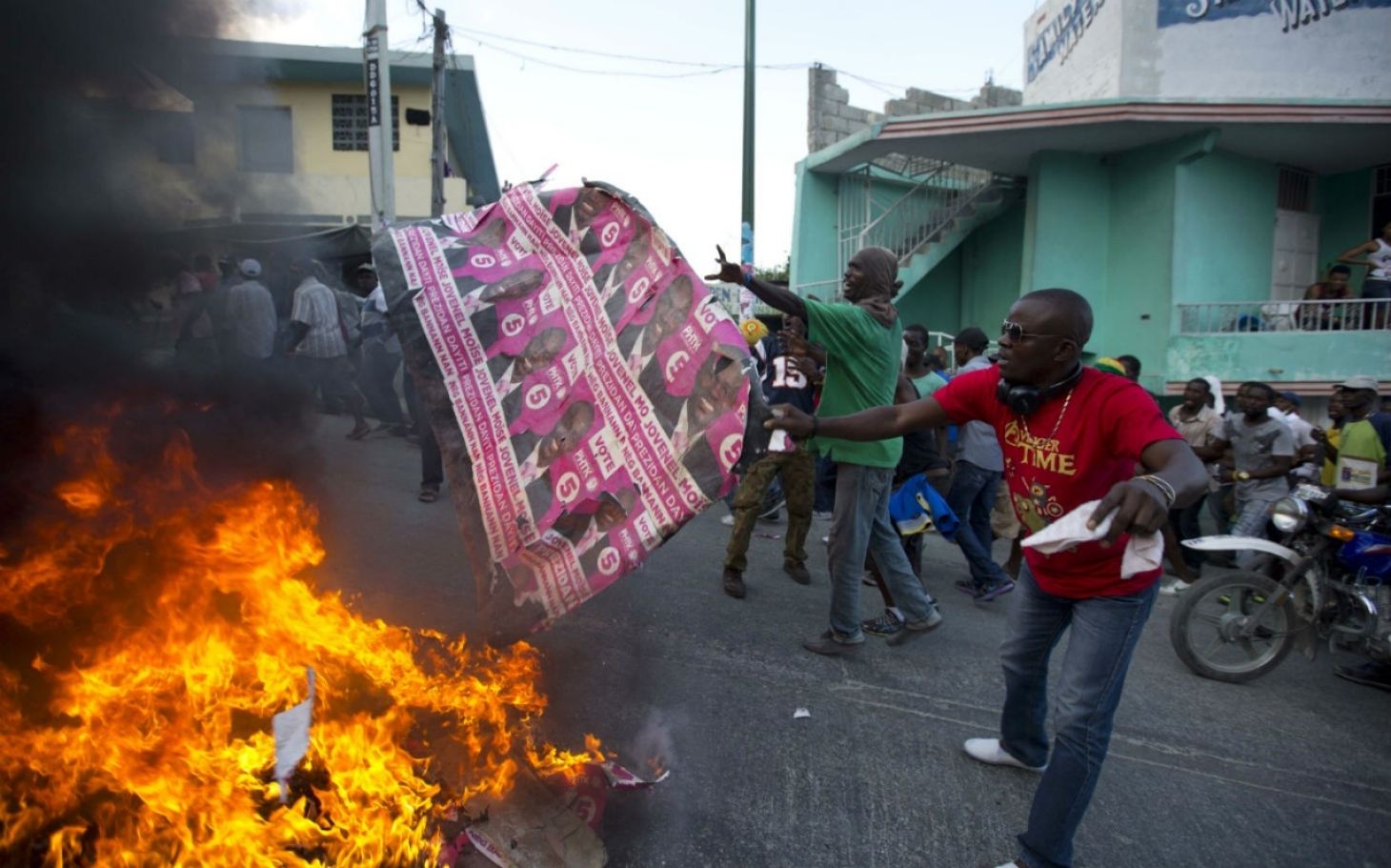 As has been mentioned by Pastor Daniel life has been very difficult in Haiti this last month. Frustration with government officials has been brewing. The main reason for the conflict in Haiti was the participation in the Venezuelan oil-purchasing program Petrocaribe. Haiti bought oil from Venezuela paying only 60% of the purchase price and financed the rest for 1% interest over 25 years. The debt has grown over 2 billion dollars. The government controls the sale of oil and was supposed to use the profits for social and development projects, infrastructure and agricultural projects. It is presumed that the money was misused, misappropriated, or embezzled by the powerful and rich. The value of the Haitian dollar has fallen as fast as an avalanche making even the most basic products too expensive for the very poor. Last month these concerns came to a culmination as masses took to the streets to make their voice heard demanding their president step down from office. The masses on the streets made it unsafe for most people to leave their homes for work or to purchase basic needs. Many mission teams went home early or cancelled their plans to travel to Haiti.
As we pray for the leaders of our country, let's also unite with our friends in Haiti and pray for their leaders to bring peace, justice and stability. God will heal our land as he has promised in 2 Chronicles 7:14.
Thank you for praying for Vine Ministry and your kind financial support both of which are needed for the continuation of this work.
James Dick  574-534-8325  Jimandjo.geo@yahoo.com
Evelyn Dick  229-291-3480 Haitibabemema1@aol.com
---
Remember, the email version of the newsletter is published within the first few days of the month. If you want to be the first to read it, sign up on our website at:
https://vineministry.org/newsletter/page.html
Whichever way you choose to receive updates of this ministry, we are always happy to keep you informed of the work in Haiti.
Support Vine Ministry by shopping online at Smile.Amazon.com. Indicate Vine Ministry Inc. as your charity.
Evelyn's book, Life on the Edge, "34 Years of Ministry in Haiti". 
It may be ordered by sending a donation of $15.00 plus $3.00 to 
Vine Ministry, PO Box 967, Goshen, IN. 46527
Or order securely on our website vineministry.org.