NOVEMBER 2021
Haiti is in a difficult place.
So much so, it may be hard to believe. Many missionaries living in Haiti are encouraging visitors not to come visit. Also, the US state department has issued a warning concerning this country:
Do not travel to Haiti due to kidnapping, crime, civil unrest, and COVID-19.
The Vine Church congregation in Port-au-Prince is doing all they can to stand.
Zoom call coming this January.
I want to thank everyone of our readers for showing genuine interest in Vine church in Haiti by praying and offering financial support where you can. To show our appreciation, we want to do something special for all of you. Near the end of January, we will bring together Pastor Joel and Marie St Amour, Associate Pastor Daniel Telfort, and Dr. Mirhioll together with all of you on a ZOOM call. Everyone who has donated at least $1000 for the year 2021 will receive a computer link to this call. The St Amours and Telforts are looking forward to sharing with you and answering your questions.
Letter from Associate Pastor Daniel Telfort
I would like to share with you an email sent to me from Pastor Daniel Telfort, the associate pastor of Vine Church.
HOWEVER, PLEASE DO NOT POST ANY OF THIS ON SOCIAL MEDIA.
The lives of our friends in Haiti are continual at risk from harmful people.
Greetings from troublesome Port-au-Prince, Haiti. I wanted to send you this update since last weekend. However, many things kept coming in the way, especially bad internet connection. Thank you so much for your patience.
I hope you and your family are doing well under the loving care of our heavenly Shepherd. Spiritually, we realize more and more that we cannot expect anything good from this evil world. It seems that the devil is raging in terms of causing people to do bad things against God's will. BUT we don't and won't lose heart. For The Lord is in control. We look up to him, knowing he will never let us down, in spite of all the troubles we face in life. He comforts us with his word. And we know what he promises is true. For he is faithful.
As you know, a terrible earthquake hit the greater south of Haiti. And thousands of homes were gone. Thousands of people died. And to make things worse, a hurricane hit the same area about two weeks after. We do have many people from the Vine Church whose family are affected by those natural disasters. We, at the Vine church have been reaching out to those dear brothers and sister in the South. We praise the Lord for funds you have sent for those who are in great needs. Thank you so much. We have deposited the funds; it will take 9 business days to clear. Then we will begin distributing to the needy in the Southern part of the Country. We pray that the Lord would bless those efforts so show God's love to those suffering people.
More of pastor Daniel's letter next month.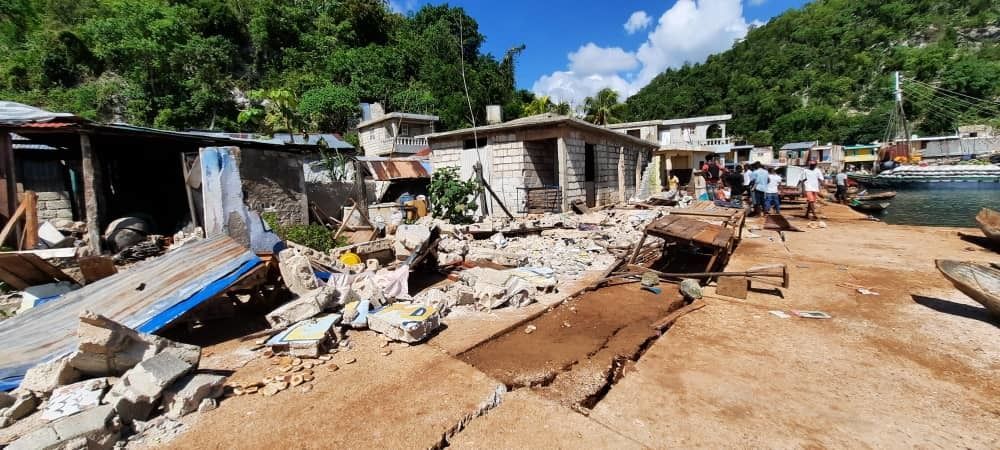 What can we do? We can do what the church has always done, pray in faith.
51% of General Fund was met.  Earthquake giving $11,995
Thank you again for your commitment to Haiti and Vine Ministry. We love and pray for you all.
James and Jo Dick              574-534-8325              jim@vineministry.org
Evelyn Dick                         229-291-3480              Haitibabemema1@aol.com
Evelyn's book, Life on the Edge, "34 Years of Ministry in Haiti", order by sending a donation of $15.00 plus $3.00 to Vine Ministry, PO Box 967, Goshen, IN.  46527
Or order securely on our website, vineministry.org.
Find the Kindle eBook version on Amazon.
Sign up for our newsletter HERE.