Over the Moat – Drawbridge to the King was the theme for Blue River Church of the Brethren's Vacation Bible School. 56 children were enrolled for this wonderful program. The mission out reach this year was Vine Ministry and the Clinic at Vine Church in Haiti. They raised $3400 for the Clinic. Thank you for your gift as it will provide health to people of Haiti many times over.
West Goshen Church of the Brethren hosted a worship event July 17th. Betsey Long, a local Nashville recording artist, along with other musicians and vocalists led us in an evening of worship and praise to Jesus. They responded to the call and helped Haiti with $2777.  Thank you for your gracious heart to continue touching lives in Haiti.
The Clinic at Vine Church in Haiti has taken a step in a new direction. It has been on the hearts of several to serve those who are handicapped. The Clinic is providing assistance for Pastor Telfort's daughter. As this project grows, more help will be provided and more handicapped individuals will receive care. To the best of our knowledge, there are no hospitals who treat and care for mentally and physically handicapped. Please keep this project in mind as you consider your help for Haiti.
Please keep us in your prayers as we travel to Haiti on August 14. We, Jim and Jo and Evelyn will be staying until the 27th. During this time we will register the kids for school. Amy Self of West Goshen COB will join us on August 19 to help take those precious pictures of the students.  We cannot thank Amy enough for her willingness to help. Our hearts are over whelmed with gratitude as you, our friends, have expressed commitment to bringing hope to Haiti one child at a time. By the time we leave for Haiti our goal will be met of at least 155 students in school this year.
We are looking forward to seeing many of you as we travel to churches this fall. From October 22nd through the 29th we may be in your area. If you would like us to visit with your church or mission group, please email the following details to Jimandjo.geo@yahoo.com by September 15: your contact information, church name & address, Pastor's name & phone number, and three dates of your choosing (between October 22nd & October 29th) (we will confirm the date we are able to accommodate). We ask for one night's lodging with someone in your congregation or in a hotel/motel. Jim and Jo will need a room and Evelyn will need a room. Also, please, due to allergies no pets in the house. We greatly appreciate any offerings given to the ministry.
Without your support we would not be able to continue. God Bless You Richly!
James Dick                           574-534-8325         Jimandjo.geo@yahoo.com
Evelyn Dick                         229-291-3480          Haitibabemema1@aol.com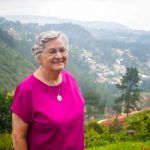 Evelyn's book, Life on the Edge, "34 Years of Ministry in Haiti", may be ordered by sending $15.00 plus $3.00 to Vine Ministry, PO Box 967, Goshen, IN.  46527
Sign up for the e-mail version of our newsletter.
Join us in praying more specifically for the needs of Vine Ministry and Haiti through "Prayer Support". This is found at vineministry.org then clicking on "Prayer Support"
Support Vine Ministry by shopping online at Smile.Amazon.com. Indicate Vine Ministry Inc. as your charity.